Goto Home Page
GET YOUR OWN MOBILE WEBSITE IN JUST A FEW MINUTES.
Use it as your Visiting Card, Product Catalogue etc.
---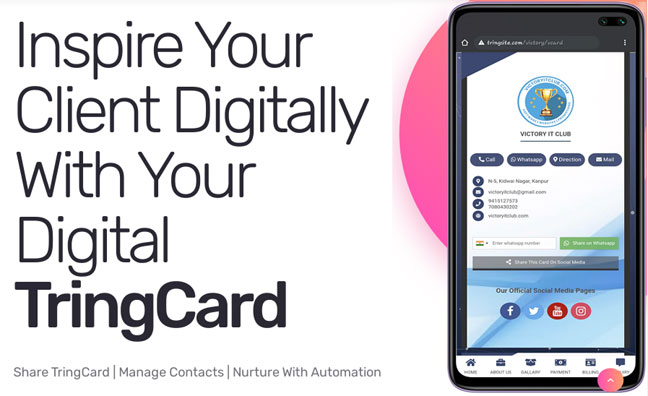 To Know More Click Here
Tringcard is a Mobile Website which works as your Digital Visiting Card. You can use it as your Visiting Card, to share your Product Catalogue with your clients, to share your Banking details among your customers on which they can make you payments, to share your other payment options like Paytm, Gpay , Phonepe QRcode along with payment gateways etc. all at one place.
The main features of a Tringcard are -
One Click Call
One Click Whatsapp
One Click Email
One Click Google Map
Share card on Whatsapp ( without saving the no.)
Share card on SMS, Email etc.
Social Media Buttons
About You Section
Mini Product Catalogue
Services Galary
Payment Options
GST Invoicing Details
Send Enquiry Form

To know more about this product , you can watch the following video. And if this information seems useful then give it a "Like" also. This video shows how to create a Digital Business Card or a Mobile Website almost for FREE and share with anybody. Because the amount charged is negligible in comparison to the services provided. The charges for this complete services is just Rs.599 , which we normally spend in a day going here and there. But, your Mobile Website will serve you throughout the year.
You can check some sample visiting card links provided here and if interested then you can go and buy the service by making payment on our own Official vCard , which is provided here below -
Some Digital vCard Samples -
http://tringcard.cf/victory
http://tringcard.cf/sg
http://tringcard.cf/swastikcomputer
Our Official Digital vCard-
http://tringcard.cf/victory
Our Contact Nos.-
7080430202, 9336054417
(You can Call/SMS/Whatsapp on these Nos.)
In case you are interested in the same, and/or want to know something more about this tool -
You can call us on 7080-430-202 during office hours or leave a Whatsapp msg on the same no.
Or, you can send us an Enquiry by clicking here -
Like us on Facebook :
Related Posts
---